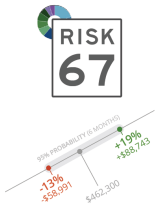 Is Your Investment Portfolio At Risk?
Did you know that approximately 80% of investors carry more risk in their portfolios than they realize?* Do you know exactly what your "risk" comfort level is when it comes to investing your hard-earned money?

We can Mathematical Quantify your Risk Number
Take the 5-minute Steward Riskalyze® questionnaire to help pinpoint your acceptable level of risk and reward when it comes to investments. The resulting questions capture your unique "Risk Fingerprint"—a Risk Number that is as unique as your fingerprint.
How the Steward Riskalyze Tool Works
Our simple quiz covers topics such as portfolio size, top financial goals, and what you're willing to risk for potential gains. The quiz will reveal your Risk Number that will help guide us in ensuring your portfolio aligns with YOUR investment goals and expectations.

Together we can take the guesswork out of your financial future
After you take the Quiz, we'll let you know what your Risk Number is and answer any questions you may have about your current portfolio. There is no obligation of course, and if you feel we are a good fit as an Advisor we'd like to work together to craft a portfolio that aligns with your personal preferences and priorities. Feel free to pass along the Riskalyze questionnaire to any friends or colleagues.
*Riskalyze