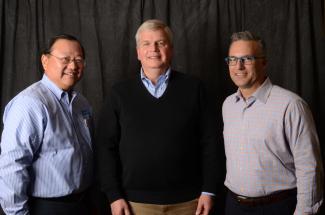 Our Thoughts on the Economy as we Head into 2022
2021 was an incredible year for the economy and for investors, as U.S. GDP grew at the fastest pace since 1984. We expect that when the books are closed on the 4th quarter, GDP will be above pre-pandemic levels and on track with the trend growth that was expected before the pandemic hit. The S&P 500 was up over 28%, including dividends, driven by growth in operating earnings of 65%! Because of this strong growth, stock Price to Earning valuations are more attractive than they were at the beginning of the year.
This strong growth drove unemployment down to 3.9%, with nearly 11 million jobs currently open. While this was mostly good news, the strong growth coupled with supply chain issues has pushed inflation up to 6.9% in the latest reading.
2022 Transition Back to Normal?
As we begin 2022, we anticipate continued growth in the economy which should be positive for financial markets. As we move from dealing with the coronavirus as a pandemic to managing the coronavirus as an endemic disease, the economy will be less and less effected by new variants and surges in infection. We may never go back to what was normal in 2019, but we will normalize COVID and its economic impacts.
Economically, 2022 will be more normal, with GDP growth of 3-4%, company earnings growth of 9-10% and stock market returns in that same range. However, things may feel like they are going in reverse. Think about driving on a highway at 100 miles per hour, seeing a policeman ahead on your Waze app, then slamming on the brakes until you are going the speed limit. You may still be going at a normal pace, but it will feel like reverse. Similarly, the economy might feel like it's going in reverse while it's still plowing ahead at a good clip in 2022.
Several forces will be braking the economy in the year ahead. First, the federal deficit will drop from 12.4% of GDP to 4.7% of GDP. Second, the Federal Reserve Board will be ending quantitative easing by the end of March in order to set the table for as many as three interest rate increases in 2022. Finally, supply chain and labor constraints will continue to limit GDP growth. The good news is that we don't expect any of these braking forces to push the economy into a recession. In fact, slower growth will help companies work through supply chain issues, rebuild inventories and find and train workers. This should lead to lower inflation by the end of 2022 and slightly lower unemployment.
Risks
There are always risks to any forecast, and we would be remiss not to mention our top concerns. First, geopolitical tensions with both Russia and China are increasing. First, geopolitical tensions with both Russia and China are increasing. The world is watching Russia/Ukraine activity closely and we will continue to monitor tensions in Taiwan as well. Second, the Coronavirus pandemic continues to drive economic activity. While we are learning to adapt and manage each new wave, it is possible a new variant could emerge that leads to severe restrictions on economic activity. Lastly, we could see fiscal and monetary overtightening. The Biden administration has not been able to push through its spending agenda even with a congressional majority. Most majority parties lose congressional seats during midterms, which reduces the chances of additional spending as time passes. On the monetary front, the Fed has been slow to react to higher inflation. If inflation continues to outpace expectations, they will have no choice but to speed up the pace of interest rate increases, potentially pushing the economy into recession. We don't expect these risks to occur, but we will be watching developments closely.
If you have any questions or concerns as we head into the new year feel free to contact us.